WALLSEND CAMPUS
Year 7-10
&
Student leadership programs
Triple E Centre focusing on Engagement, Enrichment and Excellence
CAPA Enrichment programs
1
&
Extensive Gifted and Talented programs
Close links with partner primary schools through the Callaghan Education Pathways
Quality Aboriginal Education programs
&
Quality community relationships
Diverse learning pathways
Quality community relationships
1
Welcome to Callaghan College Wallsend Campus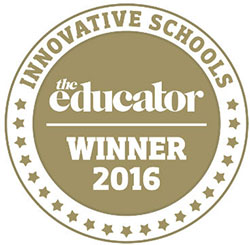 Callaghan College Wallsend Campus is a specialist school focusing on middle schooling practices that address the specific needs of students in Years 7 to 10. Features of the curriculum include special learning programs and an emphasis on the use of technology in learning. Assessments in all Key Learning Areas compliment the differing learning styles of students.
The school is a Stronger Smarter Hub School which is committed to changing the tide of low expectations in Indigenous Education. We are also a Microsoft National Leading School and we help teachers and school leaders connect, collaborate, create, and share so that students can realize their greatest potential.
The links between the partner primary schools and the campus are extensive, involving effective Stage 3 and Stage 4 teacher interaction and cross site teaching and as such providing continuity of education for students. Extracurricular activities include band, choir, debating, public speaking and a comprehensive sports program.
Student leadership is fostered and supported. There are specialist classes in Years 7 and 8 for Creative and Performing Arts (CAPA) and for Gifted and Talented students.
Further information about your child's education can be accessed on our school's Student Intranet site, SharePoint – you'll find the link to the left. Students need to login using their username@edu, with their regular password.
This resource is being constantly updated, refined and added to. Information students and parents can access includes Assessment Schedules (years 9 and 10), some Assessment Tasks, Yearly Topic Planners for Mathematics as well as various learning resources, including worksheets, interactive learning modules, links to publicly available textbook sample chapters, and passwords for our school funded online learning sites Mathletics and Mathsonline.
Browse each Faculty's page by selecting the drop down menu at the top of the Student Intranet. If you need further navigation tips, be sure you child asks their teacher or feel free to contact the school on 4951 1811.